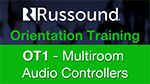 OT1_Multiroom Audio Controllers
One of the core components that can be used to distribute your favorite music around your home is known as a controller. It's a device that is part multi-channel amplifier, part advanced audio matrix, and part device control system. In other words, it's the box that all of your favorite audio sources get connected to. It's smart enough not only to handle playing your music around your home, but also to send the proper commands to turn them all on and off, to play or pause them, to skip forwards or backwards, or to change tracks, stations, etc. Russound offers three different controller types ranging from our advanced MCA-Series, to the intermediate level CAA-Series products down to our easy-to-use entry-level CA4 system.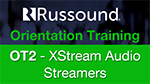 OT2_XStream Audio Streamers
Russound Orientation Training #2 - A pioneer in bringing streaming audio to the luxury home market, Russound has long recognized what makes this technology both easy to use and enjoyable. That's why every one of our XStream Series of products has built-in support for Apple AirPlay and supports true hi-res audio (24-bit/192kHz). We also support the most popular streaming services in the market today. Our unique XStream Series of products is designed to work in an area as small as a single room to up to as many as sixteen rooms.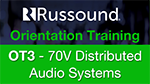 OT3_70V Distributed Audio
With the launch of the new 70V/100V light commercial line, Russound is offering an innovative new mixer amp with a built-in XStream™ streaming audio source for a powerful 300-watt, 1U single-box solution. As part of the Russound Certified Installer program, it is only available to custom installation professionals, enhancing the value that they can provide to their customers.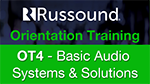 OT4_Basic Audio Systems & Solutions
Russound provides distributed audio solutions for every application; from analog to IP, residential to commercial, 8 ohms to 70volt, indoors or outdoors, Russound is distributed audio. This session will cover the product categories geared toward basic level systems and installations and give examples of uses for each of them. From autoformer Volume Controls to impedance matching Speaker Selectors to A-BUS to CA4 and CAA66, learn just how versatile, reliable and profitable Russound products and solutions can be and what that can mean to your business.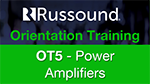 OT5_Russound Power Amplifiers
Power amplifiers are the muscle behind every home music system. Russound puts great pride and effort into building stereo and multi-room amplifiers that supply years of problem-free service. Russound engineers embarked on designing our amplifiers to meet the demands of multi-room audio systems: seamless integration, bulletproof reliability and astonishing fidelity. Built to complement an extensive array of audio systems, these versatile products deliver outstanding performance under the most demanding conditions.