Not just popular because it's so easy to install
The A-BUS system from Russound has long been known as the easiest distributed audio system to install due to its simplified wiring structure. At least that's why the installation professionals love it. But why do they keep recommending it? Because their customers love it, of course!
Multiroom Simplified
Russound's simplest multi-room solutions are based on the A-BUS technology—the embodiment of simplicity. Designed for exceptional ease of use, our systems are flexible and modular. From single source systems that allow you to share music throughout your home to basic multi-source systems that provide multiple music sources in different locations, Russound offers solutions for any home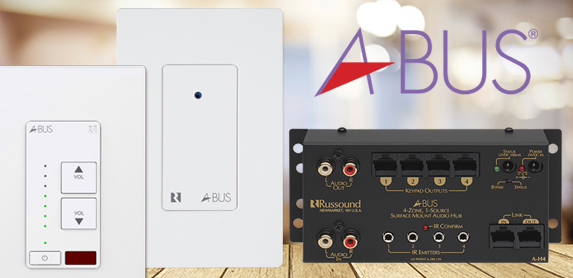 System Expandability
From source components to amplified keypads, an A-BUS system installs using CAT-5 cable and keypads fit into standard low voltage workboxes. Installation, whether in new construction or an existing home, is a snap. The modular design of A-BUS components makes future system expansion painless. Add additional A-BUS hubs or controllers to increase the numbers of system zones
System control couldn't be simpler
Russound's A-K4 amplified keypad features an on/off/source selection button, volume up/down buttons, and an IR receiver for control via a remote.
Local performance
To enhance your audio experience, the A-BUS Local Input Module provides a local source input to an A-BUS zone. Listen to your iPod or enjoy sound from your TV through your A-BUS system speakers. It includes an IR emitter output for remote control of local sources
All of today's content
Add Bluetooth to give your A-BUS system access to any of today's great content from your phone or tablet