Desktop Stand, MDK-C5
DTS1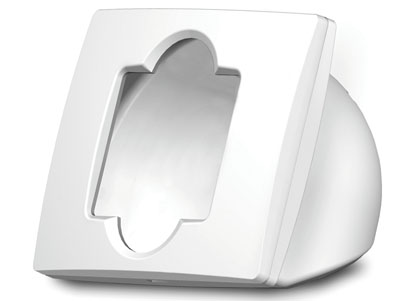 Desktop Stand, MDK-C5 DTS1
Russound's new DTS1 Desktop Stand is an accessory base that allows the C-Series MDK-C5 keypad to be used on a desk, table, or counter top.
The weighted body and non-skid base provide a stable housing for the MDK-C5, taking system control "off the wall" and delivering access to music and video from any flat, stable surface in any system zone.
The DTS1 connects to the MCA-C5 multiroom controllers through a single CAT-5 cable, up to 250". The Desktop Stand is available in white and black, and provides an attractive housing for putting C-Series system control within reach in your den, kitchen, or next to your favorite chair.
Standard Features
Puts MDK-C5 keypad within reach on desk, table or nightstand
Available in white or black
Weighted body and non-skid base
Includes terminated CAT-5 cable
Shipping Dimensions
10.0" (W) x 8.9" (H) x 8.5" (D)
(25.4 x 22.6 x 21.6 cm)
Shipping Weight
3.4 lbs (1.5 kg)
CAT-5e Connection
RJ-45 (T568A standard)