Desktop Stand, MDK-C5
DTS1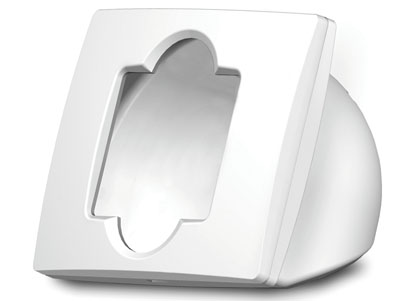 Desktop Stand, MDK-C5 DTS1
Russound's new DTS1 Desktop Stand is an accessory base that allows the MDK-C5 keypad to be used on a desk, table, or counter top.
The weighted body and non-skid base provide a stable housing for the MDK-C5, taking system control "off the wall" and delivering access to music and video from any flat, stable surface in any system zone.
The DTS1 connects to the MCA-Series or C-Series controllers through a single CAT-5 cable, up to 250". The Desktop Stand is available in white and black, and provides an attractive housing for putting system control within reach in your den, kitchen, or next to your favorite chair.
Standard Features
Puts MDK-C5 keypad within reach on desk, table or nightstand
Available in white or black
Weighted body and non-skid base
Includes terminated CAT-5 cable
Shipping Dimensions
10.0" (W) x 8.9" (H) x 8.5" (D)
(25.4 x 22.6 x 21.6 cm)
Shipping Weight
3.4 lbs (1.5 kg)
CAT-5e Connection
RJ-45 (T568A standard)